Here is a photo of the beautiful tree that covers our back porch. I loved looking at it, especially when I started meditating this fall with the help of Eckhart Tolle.
Voici une photo de l'arbre qui couvre notre balcon. J'ai beaucoup aimé le regarder cet automne, alors que je commencais a méditer grace a l'aide de Eckhart Tolle.
Yehudi Wyner
By Journal | July 26, 2012 at 09:35 PM EDT |
No Comments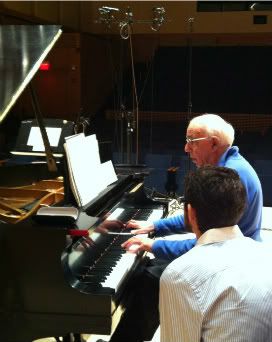 Last week, Yehudi and myself recorded a CD of recital music, including music we have performed all over the world. We took three days to record altogether twenty-five songs from Saint-Saens, Reynaldo Hahn, Maurice Ravel, Benjamin Britten and Yehudi Wyner. We recorded our CD with the help of David Bowles at Tufts University. Every song seemed alive and happy to matter. I can't wait to hear the final product. This will be a very special CD.
La semaine dernière, Yehudi Wyner et moi avons enregistré un superbe disque de musique de récital que nous avons présenté a travers le monde. Nous avons pris trois jours pour enregistrer ces vingt-cinq mélodies de Saint-Saens, Reynaldo Hahn, Maurice Ravel, Benjamin Britten et Yehudi Wyner. Le projet s'est déroulé a l'université Tufts sous la garde attentive de David Bowles. Chaque mélodie semblait vivante et heureuse. J'ai bien hate d'entendre le résultat final.