Here is a photo of the beautiful tree that covers our back porch. I loved looking at it, especially when I started meditating this fall with the help of Eckhart Tolle.
Voici une photo de l'arbre qui couvre notre balcon. J'ai beaucoup aimé le regarder cet automne, alors que je commencais a méditer grace a l'aide de Eckhart Tolle.
Maverick, 14th of July/ Maverick le 14 juillet
By Journal | August 10, 2012 at 10:04 PM EDT |
No Comments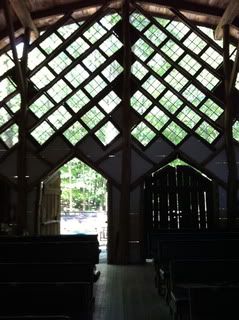 Last night, I offered an evening of French Baroque music with Four Nations, a group of splendid musicians lead by Andrew Appel. Maverick is located in Woodstock, NY and the cunning water. People have been coming to this place to hear music for almost a century. It was a lot of fun to sing Médee by Clerambault, as well as two lovely unknown French songs that were published in magazines in Paris around 1784; a perfect choice for Bastille's Day.
Hier soir, j'ai offert un concert de musique baroque française avec Four Nations, un groupe de musiciens splendides dirigés par Andrew Appel. Maverick est situé à Woodstock, NY et la salle de concert n'a pas d'eau courante! Les amateurs de musique y viennent depuis pres d'un siècle pour se gaver, dans un endroit intime et en plein-air.
Ce fut un plaisir de présenter Médée de Clerambault, ainsi que deux jolies mélodies publiées vers 1784 dans un magazine parisien; soirée parfaite pour un 14 juillet.