Here is a photo of the beautiful tree that covers our back porch. I loved looking at it, especially when I started meditating this fall with the help of Eckhart Tolle.
Voici une photo de l'arbre qui couvre notre balcon. J'ai beaucoup aimé le regarder cet automne, alors que je commencais a méditer grace a l'aide de Eckhart Tolle.
Handel, Rameau and Steffanni
By Journal | August 04, 2012 at 01:45 PM EDT |
No Comments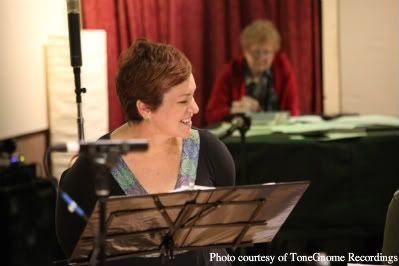 I just came back from another recording. Musica Pacifica and myself recorded three cantatas: one by Handel, one by Rameau and one by Steffanni. This delightful little project ended up being quite demanding. The studio chosen is a place used mostly by Rock'n Roll groups where the sound is sucked up by walls. It took me a while to figure out how to use my instrument in such a dead place. I found it also quite challenging to be able to make music with the other musicians, because the place was so dry; but in the end, we managed to create some beautiful music. I poured my soul into every phrase and hope the microphones were able to take some of it and spread it into the recording.
It is always a pure joy to make music with old friends; among them, the wonderful Elizabeth Blumenstock, Charles Shermann, Judy Linsenberg, and some new ones, Josh Lee and John Lenti. This CD is being produced by Lolly Lewis and engineered by John Buckman. Louise Drapeau had access to the whole project and will certainly insert moments in the documentary she is
doing
about my life.
Je reviens de la Californie ou j'ai enregistré un disque de trois jolies cantates: une de Handel, une de Rameau et une de Steffanni. Ce projet demanda beaucoup d'effort de la part de tous. Premièrement, le studio choisi est utilisé la plupart du temps par des groupes Rock ou le son est complètement absorbé par les murs. J'ai du prendre quelques heures pour trouver une façon d'utiliser et de trouver ma voix dans ce désert. Un autre défi fut d'être capable de s'entendre et de faire de la musique avec les autres musiciens. Mais en fin de compte, nous avons été capables de créer de la belle musique. J'y ai mis mon âme dans chaque phrase et j'espère qu'elle sera captée par les microphones.
C'est toujours un grand plaisir pour moi de faire de la musique avec des amis: entre autres, la merveilleuse Elizabeth Blumenstock, Charles Shermann, Judy Linsenberg et mes nouveaux amis, Josh Lee et John Lenti. Le disque est produit par Lolli Lewis et l'ingénieur de son est John Buckman. Louise Drapeau a eu la chance d'être présente a tous les moments et utilisera certains extraits dans le documentaire qu'elle est en train de créer sur ma vie.