Here is a photo of the beautiful tree that covers our back porch. I loved looking at it, especially when I started meditating this fall with the help of Eckhart Tolle.
Voici une photo de l'arbre qui couvre notre balcon. J'ai beaucoup aimé le regarder cet automne, alors que je commencais a méditer grace a l'aide de Eckhart Tolle.
Bach and Brahms in Portland, OR
By Journal | October 01, 2012 at 11:49 AM EDT |
No Comments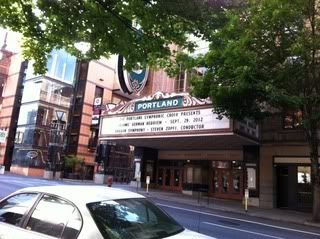 I had a fantastic week in Oregon, singing wonderful music. First, the virtuosic Bach Cantata #51, with its many scales and roulades praising the Glory of God, and in the second half, the sublime Brahms Requiem. I did sing it for my uncle Gilles who passed away around Christmas, and reflected on the phrase " Happy are the dead". What does it mean? What did it mean to Brahms himself? What do the Dead have to teach us about eternal life? What does this piece reveal about death in 2012?
Everyone has a different answer and I will let it be as is.
J'ai passé une semaine magnifique a Portland, Oregon. J'aime l'énergie de cet endroit. Je crois qu'on peut y vivre paisiblement. Le programme incluait la cantate #51 de Bach, ainsi que le tres beau Requiem de Brahms. Je l'ai chanté pour mon oncle Gilles qui est décédé en décembre dernier. J'ai eu la chance de réflechir sur cette phrase, " Heureux sont les morts". Qu'est-ce que cela veut dire? Qu'est-ce que cette phrase voulait dire pour Brahms lui-même? Qu'est-ce que cette piece peut nous apprendre sur la vie éternelle? Je crois que chaque personne possede des réponses diférentes sur ce sujet et je les laisse penser comme cela leur convient.