Here is a photo of the beautiful tree that covers our back porch. I loved looking at it, especially when I started meditating this fall with the help of Eckhart Tolle.
Voici une photo de l'arbre qui couvre notre balcon. J'ai beaucoup aimé le regarder cet automne, alors que je commencais a méditer grace a l'aide de Eckhart Tolle.
Bach and Brahms in Portland, OR
By Journal | October 01, 2012 at 11:49 AM EDT |
No Comments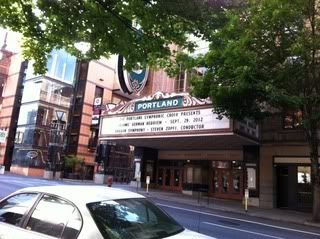 I had a fantastic week in Oregon, singing wonderful music. First, the virtuosic Bach Cantata #51, with its many scales and roulades praising the Glory of God, and in the second half, the sublime Brahms Requiem. I did sing it for my uncle Gilles who passed away around Christmas, and reflected on the phrase " Happy are the dead". What does it mean? What did it mean to Brahms himself? What do the Dead have to teach us about eternal life? What does this piece reveal about death in 2012?
Everyone has a different answer and I will let it be as is.
J'ai passé une semaine magnifique a Portland, Oregon. J'aime l'énergie de cet endroit. Je crois qu'on peut y vivre paisiblement. Le programme incluait la cantate #51 de Bach, ainsi que le tres beau Requiem de Brahms. Je l'ai chanté pour mon oncle Gilles qui est décédé en décembre dernier. J'ai eu la chance de réflechir sur cette phrase, " Heureux sont les morts". Qu'est-ce que cela veut dire? Qu'est-ce que cette phrase voulait dire pour Brahms lui-même? Qu'est-ce que cette piece peut nous apprendre sur la vie éternelle? Je crois que chaque personne possede des réponses diférentes sur ce sujet et je les laisse penser comme cela leur convient.
Skaneateles, NY. August 24th.
By Journal | August 26, 2012 at 11:44 AM EDT |
No Comments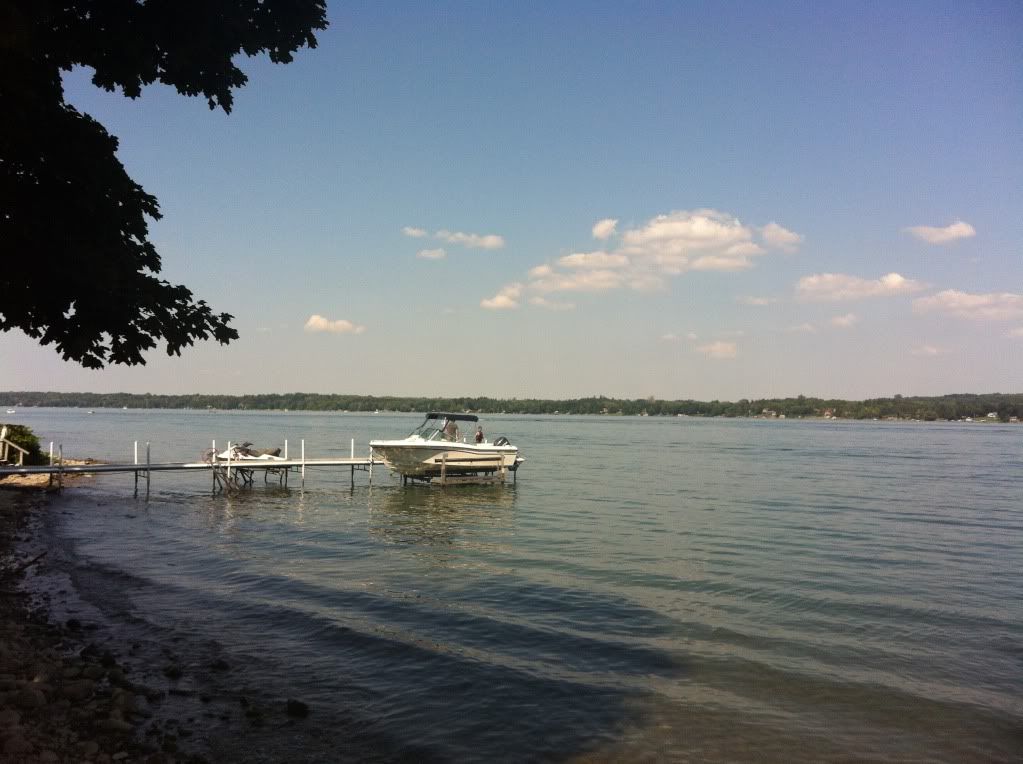 There was my last concert of the summer, and what a lovely way to end the season being part of a music festival by a lake. Everyone is happy, relax, and grateful to come in this lovely church to hear great music. Thanks to Four Nations.
Quelle belle façon de terminer la saison en participant au festival de musique de Skaneateles, situé sur le bord d'un lac splendide. Les gens sont heureux, en vacances, et choyés de pouvoir entendre de la belle musique dans ce charmant village tout près de Syracuse. Je dis donc un gros merci au groupe Four Nations.
Maverick, 14th of July/ Maverick le 14 juillet
By Journal | August 10, 2012 at 10:04 PM EDT |
No Comments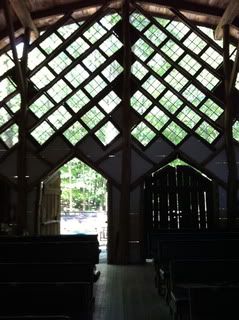 Last night, I offered an evening of French Baroque music with Four Nations, a group of splendid musicians lead by Andrew Appel. Maverick is located in Woodstock, NY and the cunning water. People have been coming to this place to hear music for almost a century. It was a lot of fun to sing Médee by Clerambault, as well as two lovely unknown French songs that were published in magazines in Paris around 1784; a perfect choice for Bastille's Day.
Hier soir, j'ai offert un concert de musique baroque française avec Four Nations, un groupe de musiciens splendides dirigés par Andrew Appel. Maverick est situé à Woodstock, NY et la salle de concert n'a pas d'eau courante! Les amateurs de musique y viennent depuis pres d'un siècle pour se gaver, dans un endroit intime et en plein-air.
Ce fut un plaisir de présenter Médée de Clerambault, ainsi que deux jolies mélodies publiées vers 1784 dans un magazine parisien; soirée parfaite pour un 14 juillet.
Handel, Rameau and Steffanni
By Journal | August 04, 2012 at 01:45 PM EDT |
No Comments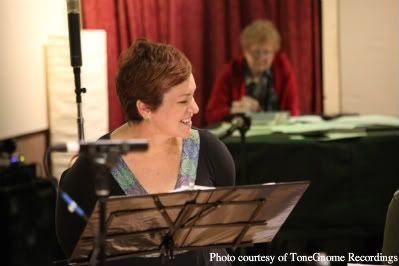 I just came back from another recording. Musica Pacifica and myself recorded three cantatas: one by Handel, one by Rameau and one by Steffanni. This delightful little project ended up being quite demanding. The studio chosen is a place used mostly by Rock'n Roll groups where the sound is sucked up by walls. It took me a while to figure out how to use my instrument in such a dead place. I found it also quite challenging to be able to make music with the other musicians, because the place was so dry; but in the end, we managed to create some beautiful music. I poured my soul into every phrase and hope the microphones were able to take some of it and spread it into the recording.
It is always a pure joy to make music with old friends; among them, the wonderful Elizabeth Blumenstock, Charles Shermann, Judy Linsenberg, and some new ones, Josh Lee and John Lenti. This CD is being produced by Lolly Lewis and engineered by John Buckman. Louise Drapeau had access to the whole project and will certainly insert moments in the documentary she is
doing
about my life.
Je reviens de la Californie ou j'ai enregistré un disque de trois jolies cantates: une de Handel, une de Rameau et une de Steffanni. Ce projet demanda beaucoup d'effort de la part de tous. Premièrement, le studio choisi est utilisé la plupart du temps par des groupes Rock ou le son est complètement absorbé par les murs. J'ai du prendre quelques heures pour trouver une façon d'utiliser et de trouver ma voix dans ce désert. Un autre défi fut d'être capable de s'entendre et de faire de la musique avec les autres musiciens. Mais en fin de compte, nous avons été capables de créer de la belle musique. J'y ai mis mon âme dans chaque phrase et j'espère qu'elle sera captée par les microphones.
C'est toujours un grand plaisir pour moi de faire de la musique avec des amis: entre autres, la merveilleuse Elizabeth Blumenstock, Charles Shermann, Judy Linsenberg et mes nouveaux amis, Josh Lee et John Lenti. Le disque est produit par Lolli Lewis et l'ingénieur de son est John Buckman. Louise Drapeau a eu la chance d'être présente a tous les moments et utilisera certains extraits dans le documentaire qu'elle est en train de créer sur ma vie.
Yehudi Wyner
By Journal | July 26, 2012 at 09:35 PM EDT |
No Comments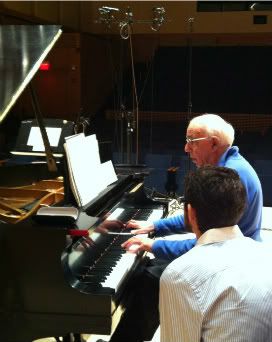 Last week, Yehudi and myself recorded a CD of recital music, including music we have performed all over the world. We took three days to record altogether twenty-five songs from Saint-Saens, Reynaldo Hahn, Maurice Ravel, Benjamin Britten and Yehudi Wyner. We recorded our CD with the help of David Bowles at Tufts University. Every song seemed alive and happy to matter. I can't wait to hear the final product. This will be a very special CD.
La semaine dernière, Yehudi Wyner et moi avons enregistré un superbe disque de musique de récital que nous avons présenté a travers le monde. Nous avons pris trois jours pour enregistrer ces vingt-cinq mélodies de Saint-Saens, Reynaldo Hahn, Maurice Ravel, Benjamin Britten et Yehudi Wyner. Le projet s'est déroulé a l'université Tufts sous la garde attentive de David Bowles. Chaque mélodie semblait vivante et heureuse. J'ai bien hate d'entendre le résultat final.